Hi! My name is Margo Munday. I am a self-taught artist specializing mainly in acrylics. I love to paint classical and contemporary still life paintings as well as wildlife and landscapes. My passion for art started early in my childhood. I grew up in Ukraine, and spent a lot of time with my grandparents in the countryside. My grandparents inspired me to create: grandma made beautiful artwork with straw glued to plywood boards, while grandpa loved to build castles out of fancy sewing buttons with me. My earliest still life paintings were mostly floral, inspired by grandma's rose and peony gardens. I remember myself sitting on the chair next to a flower, trying to copy each petal at a time. In landscape, my favorite subject matter is winter, because winter holidays were the happiest time of my life in the countryside.
I moved to the United States 10 years ago, and was fascinated by this beautiful country. It became my new home, and now I cannot imagine myself living anywhere else. I currently live in Arlington, Washington with my husband, two kids and our Siberian husky named Sky. We live in the quietness of the countryside, just as I wanted all my life. I love going on long hikes in the woods, and photograph beautiful views for my landscape paintings. Washington State is the place where I fell in love with the beauty of the mountains, and I started including them in many of my landscapes. As early as I remember, I have always been attracted to realistic style in art no matter what I paint.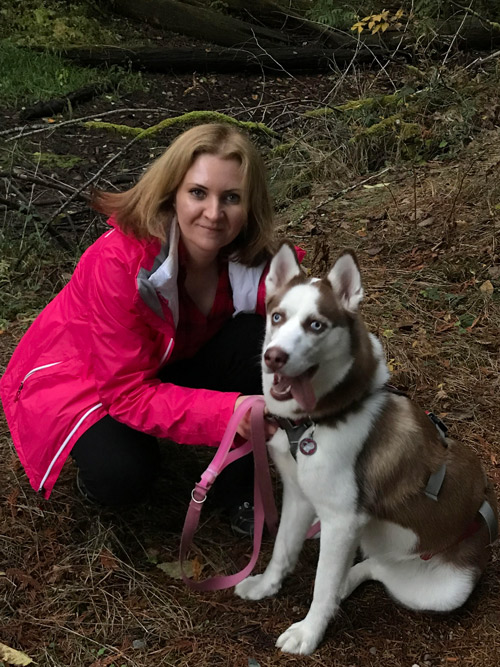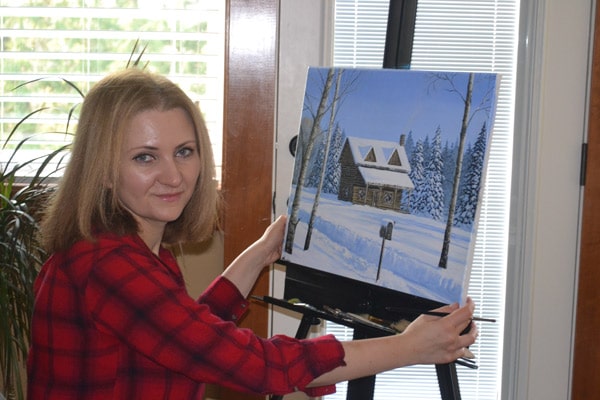 Every day of my life I am thankful for having a chance to do what I love: create artwork, and come up with new ideas to paint. To me, every painting is an exciting adventure: coming up with the idea, experimenting to photograph it in many different settings, portraying it on canvas, and making new discoveries with each brushstroke. I hope you enjoy my world of adventurous discoveries!